[ad_1]
Krista Ross is CEO of the Fredericton Chamber of Commerce
Earlier this week, a group of six New Brunswick business organizations announced our political priorities for federal parties and candidates in the upcoming federal election on September 20, 2021.
Our alliance includes the Fredericton, Moncton and Saint John Chambers of Commerce, as well as the New Brunswick Business Council, Canadian Manufacturers & Exporters, and the New Brunswick Economic Council. Together, we represent the interests of businesses across the province and are passionate about revitalizing New Brunswick's economy as we recover from the Covid-19 pandemic.
The group focuses on three pillars of growth:
Recovery and self-sufficiency
Immigration
Competitiveness and equity
Today, I will go a little deeper into the "Competitiveness and equity" pillar. Other members of our coalition will be examining the other pillars in more detail in the weeks to come before election day. The pandemic has brought regional differences to light, and just as a one-size-fits-all approach to federal public health responses has been avoided, the development of recovery-oriented policies must take into account regional realities.
In order for New Brunswick not only to be on par with other provinces, but to make it nationally competitive, we need the federal government to adjust its policy to ensure competitiveness and fairness for our province and the country. Atlantic Canada in general. To achieve this, the federal government must:
Adopt a regional policy perspective to meet the unique challenges of all regions, take into account the platform commitments specific to the Atlantic.
Work with the provinces to remove the remaining barriers to interprovincial trade.
Provide incentives, tax credits or program funding to help small and medium-sized businesses meet the costs of decarbonization and the transition to a green economy.
Regional realities
Canada is a large country with diverse and distinct regions – this is already recognized by the existence of organizations like ACOA and programs like the Atlantic Immigrant Pilot Program. These are regional successes and we can continue to build on these models. Great potential for growth exists here, but applying Ottawa-centric policies that do not reflect current demographic and economic conditions is unfair and harms growth.
The previous federal government recognized regional differences in some of the flagship programs in recent years, including climate change and child care, where provincial governments were allowed to use federal programs and / or funds to develop their own implementation plans that correspond to their own conditions.
Likewise, we encourage Canadian political parties to consider an Atlantic-specific platform or set of commitments that recognize the challenges, needs and unique characteristics of our region.
Barriers to interprovincial trade
In 2019, University of Calgary economist Trevor Tombe estimated that administrative barriers to trade in goods across provincial borders cost the country the equivalent of 3.8% of annual GDP. Then Governor of the Bank of Canada, Stephen Poloz estimated that removing these barriers would generate $ 2,000 per person in new income and about $ 20 billion in additional annual tax revenue. In Atlantic Canada, where we are so dependent on imports, the disparity is worse.
The provinces themselves have made efforts to remove these barriers through regionalised agreements, and although these have often provided a forum for discussion, their overbroad nature has traditionally failed to effectively address concerns. In progress. To correct these and other regulatory gaps, the federal, provincial and territorial governments signed the Canadian Free Trade Agreement (CFTA) in April 2017. We recommend that the federal government conduct a comprehensive review of the CFTA with a view to further removing barriers to trade, investment and labor mobility.
Encourage a green transition
The transition to a green economy is another area where it is important for the federal government to recognize the regional impacts. For example, the consistent implementation of the Clean Fuels Standard across the country will have a huge impact on our businesses and residents while adding little additional value to our already successful carbon reduction results.
With fewer public transit options – even in our urban areas – the ability to reduce carbon emissions through behavior change is limited. A plan that does not take into account regional differences also places an additional burden on a province like New Brunswick with a population that is smaller and more rural than most.
Our group of trade associations believes that government should focus on creating the conditions under which New Brunswick is treated fairly, thereby enabling our competitiveness. Competitive and fair federal and regional policy will stimulate economic growth and help the province as well as the country recover from the effects of Covid-19.
Huddle posts comments from groups and individuals on important business issues facing the Maritimes. These comments do not necessarily reflect the opinion of Huddle. To submit a comment for review, contact editor Mark Leger: [email protected]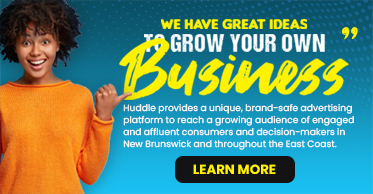 [ad_2]